ITTF Confirms Team Nigeria For 2016 Olympic Games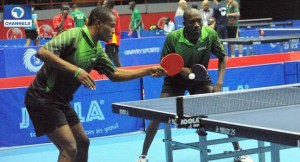 The International Table Tennis Federation (ITTF) has formally confirmed Team Nigeria as one of the 16 countries that will compete in the men's team event of the Rio 2016 Olympic Games in Brazil.
In the list released by the world table tennis ruling body, Team Nigeria will represent Africa at the event alongside world and Asia champion, China as well as Germany, United States, Australia and hosts, Brazil.
Other countries that made the cut based on their world rating are Japan, hong Kong, Portugal, , Korea Republic, France, Sweden, Austria, Poland, Chinese Taipei and England.
With this development, aside Segun Toriola and Aruna Quadri, who have qualified to play in the singles event, the team will have Bode Abiodun, who is the third highest ranked Nigerian in the world as the third player to complete the required number of players expected to form a team for the Olympic Games.
However, in the women's team event, Egypt will represent the continent alongside, China, Germany, United States, Australia and host – Brazil. Others are Japan, Singapore, Hong Kong, Korea Republic, Chinese Taipei, Korea DPR, Netherlands, Romania, Poland and Austria.
Meanwhile, Paraguay's Marcelo Aguirre and Syria's Heba Allejji are the players to receive the Tripartite places for the respective Men's Singles and Women's Singles events at the Rio 2016 Olympic Games. The decision was announced by the International Olympic Committee (IOC).
Both players have received formal approval from their respective National Olympic Committees.
Marcelo Aguirre is the winner of the Men's Singles title at the 2013 Latin American Championships in San Salvador. It will be the third consecutive time that Aguirre has competed in the Olympic Games.
He was present in Beijing in 2008 when likewise he receive the Tripartite place, before qualifying for London 2012 Olympic Games by emerging successful in the Latin American Qualification tournament staged in Rio de Janeiro.
Marcelo Aguirre, named at number 228 on the current World Ranking is the highest listed player to meet the criteria.
For Heba Allejji, it is her Olympic Games debut. Impressively, despite the problems facing her country, at the age of 19 has a World Ranking of no.677. She competed in the 2016 Asia Olympic Qualification, the 2016 ITTF World Tour Qatar Open and the 2015 Asian Junior Championships.
The Tripartite places at Olympic Games like Universality places at Youth Olympic Games aim to provide universal representation as a fundamental aspect of the Olympic Games.
The Tripartite Commission allocates places for the Rio 2016 Olympic Games to National Olympic Committees who fielded less than eight athletes in individual sports or disciplines at the last two editions of the Olympic Games.