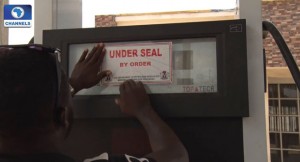 The Department of Petroleum Resources (DPR) in Niger state on Sunday warned petroleum marketers to desist from all kinds of sharp practices like diversion, hoarding, selling above official price and under-dispensing of the product or face the wrath of the law.
The State Controller of DPR, Engr Abdullahi Isah Jankara handed down the warning at the weekend after the team surveillance visit to some local governments of Bida, Agaie and Lapai respectively were he expressed dismay over lack of adherence to the new price policy of the Federal Government at N145 per litre.
Jankara reiterated the commitment of the department in ensuring absolute compliance with the regulations sequel to a memo received from the minister of petroleum to effect the new price of petroleum product at N145 in the country as stringent measure await defaulters.
Our correspondent revealed that most of the filling stations visited were selling at between N150 and N170 per litre which were forced to reverse their price but reports received was that they always either stop selling or still jack up immediately DPR leaves.
The state DPR Controller called for the support of President Muhammadu Buhari's government and urged them to do everything possible to find a lasting solution and ensure availability of the commodity in the country, commending the recent partial deregulation that has started "yielding result".
During the surveillance together with some journalists, DSS and NSCDC as part of the team, a station was sealed up at Agaie in Agaie Local Government of the state, just as they were found selling at N160 per litre at the same time selling for black marketers who were carrying over 60 jerry cans of 70 litres and over 10 jerry cans of 25 litres at the station with over 10 already served with PMS.
The Controller said that the next concentration of the department would be focused on unlicensed stations buying from third parties to sell above approved price, which he described as illegal, adding that the penalty for diversion of petroleum is N200 per litre of the quantity diverted while selling above the regulated price is N100,000 per pump of PMS in the station.