El-Rufai Inaugurates New Traffic Agency In Kaduna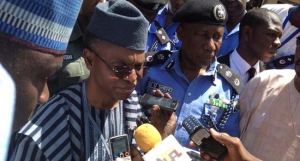 Kaduna State's Governor, Nasir El-Rufai, has inaugurated a new traffic agency known as Kaduna State Traffic and Environmental Law Enforcement Agency (KASTELEA) to ensure public order and safety across the state.
The new agency replaces the Vehicle Inspection Unit that was disbanded by the state government last year.
At the passing out parade and swearing in ceremony of the traffic marshals held  at the Murtala Mohammed square in the state capital, Governor El-Rufai said the agency was saddled with the responsibility of maintaining environmental safety and controlling traffic on public roads and places.
He urged the traffic officials to ensure that all vehicles plying the roads were properly licensed and are road-worthy.
A total 2,500 men and women of KASTELEA were trained on traffic and environmental management.
The ceremony started with an inspection of the guard mounted by the men and women of the agency. This was followed by colourful march pass.
KASTELEA will serve as an enforcement unit with a mandate to facilitate general orderliness in all public places.
Governor El-Rufai advised the traffic officials to conduct their duties with dignity and in line with the mandate and laws establishing the agency.
The high point of the event was the commissioning of patrol vehicles, towing vans and ambulances that were procured for the agency's day to day operations.
The traffic marshals have been trained to be firm and to conduct their duties with courtesy and politeness.
As they move from the venue of the event to the roads and streets, it is hoped that they would live up to expectation and ensure that residents abide by all traffic and environmental laws.