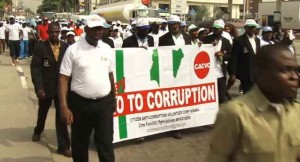 The Economic and Financial Crimes Commission (EFCC) and other anti-corruption campaigners took to the streets on Thursday to drum up support for the federal government's war against graft.
The walk against corruption took place simultaneously in the six geopolitical zones of the country.
In Lagos, officials of the EFCC, members of the National Youth Service Corps (NYSC) alongside other groups in support of the war against corruption walked from the commission's office in the Ikoyi area through to Obalende, Broad Street to Tinubu Square and back.
The walk lasted about two hours.
The Deputy Director Of Operations, Iliyasu Kwarbai, who led the walk said that the idea was to mobilise and educate members of the public to key into the anti-graft war.
"The fight is not only for government or the EFCC, the fight is for everybody and that is the reason why to educate members of the public," he said.
In Port Harcourt, the capital of Rivers State, members of the south-south zone of the commission also took to the streets.
The Zonal Head of the commission who led the walk tagged 'Let's Fight Corruption Together' said that the level of rot in the Nigerian system and the recoveries made so far is shocking.
"There is a political will. Nobody anywhere in the world can doubt the sincerity, integrity and purposefulness of the current president, President Muhammadu Buhari.
The message from both rallies was clear, everyone needs to get on board and kill corruption before it kills the country.