Ivory Coast Ex-first Lady Goes On Trial For War Crimes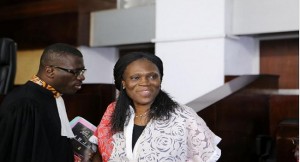 Ivory Coast's former first lady, Simone Gbagbo, went on trial on Tuesday, accused of crimes against humanity and war crimes for her alleged role in a civil war that followed a 2010 presidential election and left around 3,000 people dead.
The trial, the West African nation's first for crimes against humanity, is being held in a domestic court after the government rejected her extradition to the International Criminal Court (ICC) in The Hague.
It has already drawn criticism from Gbagbo's supporters, who claim it is politically motivated, as well as from rights groups, who accuse the prosecution of rushing the investigation.
Her husband, ex-president Laurent Gbagbo, is already before the ICC on charges linked to the brief conflict, which was sparked by his refusal to accept defeat to Alassane Ouattara in an election run-off.
Flanked by policemen, Simone Gbagbo, a key figure in her husband's regime, greeted several dozen cheering supporters gathered at the entrance of the court in the commercial capital Abidjan with waves and smiles.
The prosecution alleges she was part of a small group of party officials from Gbagbo's Ivorian Popular Front (FPI) that planned violence against Ouattara's supporters to keep him out of power.
"The FPI put in place a crisis cell in January 2011 that met at the presidential residence and constituted the organ charged with planning and organising the repression," an indictment read in court stated.
Simone Gbagbo did not immediately enter a plea on Tuesday. However, the indictment said she rejected the charges and denied the existence of a crisis cell at the presidency.
As each witness's name was read in court, she turned in her seat, scanning the gallery.