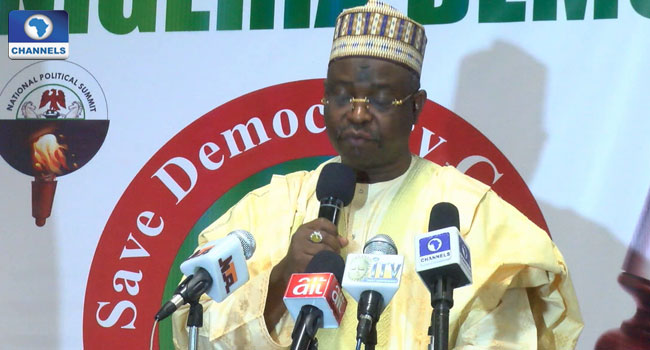 The Save Democracy Group has decried the lack of structures and internal democracy among Nigeria's political parties, after 17 years of unbroken democratic process.
According to the group, the lack of such structures has led to several acts of indiscipline among political parties with sad consequences for the practice of democracy in Nigeria since 1999.
They also argued that the current structures of the two major political parties, the ruling All Progressive Congress and the opposition Peoples Democratic Party could not support true democracy and rule of law, because their financial structures were built on individuals who dictate for the parties.
The group made the observation on Tuesday at a conference organised as part of activities to mark the 2016 Democracy Day in Abuja.
The conference x-rayed Nigeria's democracy; the successes and challenges of sustaining democracy in the last 17 years.
First, the Governor of Bauchi State, Mr Muhammad Abubakar, said the last 16 years of democracy left little to be desired until the current administration came on board.
"If not for the intervention of the Almighty God and the good people of Nigeria who voted in Muhammadu Buhari, our nation would have collapsed," he said.
Other speakers –the Deputy Governor of Akwa Ibom State, Moses Ekpo and the Acting National Council Chairman, Save Democracy Group, Ghali Na'abba – at the event decried the lack of structures among political parties, identifying it as a major obstacle to practicing true democracy in the last 17 years.
However, the guest lecturer, Professor Ibrahim Gambari, said the one year of President Buhari's administration should call for a retrospect.
While appealing to the citizenry to support the government, he asked Nigerians to continue to question the government on the need to deliver on its campaign promises.
"President Buhari is fighting for us, the people, and we must support him so that we can take our country back from the looters.
"While doing the best they can, they have to explain to us why it is taking longer to do it is that was promised.
"Why is it that despite the overwhelming mandate for change, change is so slow?" he questioned.
Nigeria's democracy is often referred to as nascent and fledgling, but many at the conference hall believed that 17 years were enough for the citizens to begin to feel the impact of democracy.