Hillary Clinton Gets Required Delegates For Democratic Nomination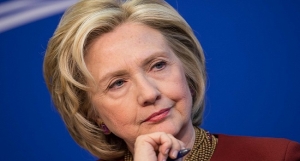 Reports say White House hopeful, Hillary Clinton may have clinched the democratic nomination for US President after reaching the required number of delegates.
An Associated Press (AP) count puts Mrs Clinton on 2,383 – the number needed to make her the presumptive nominee. If confirmed, she will become the first female nominee for a major US political party.
Clinton's delegate count is expected to grow on Tuesday when six states, including California and New Jersey, hold contests.
Speaking in Long Beach, California, on Monday, Clinton said she was still focused on Tuesday and the votes that may come from those states.
"We are on the brink of a historic, historic unprecedented moment but we still have work to do, don't we?" she said. "We have six elections tomorrow and are going to fight hard for every single vote, especially right here in California."
Rival, Bernie Sanders, however, said that Mrs Clinton has not won as she is dependent on super delegates who cannot vote until the party's July convention.
A Sanders campaign spokesman, Michael Briggs said that it was wrong to count the votes of super delegates before they cast ballots at the Democratic National Convention in July.
"Our job from now until the convention is to convince those super delegates that Bernie is by far the strongest candidate against Donald Trump," Briggs said in a statement
But the AP said Mrs Clinton reached the threshold with a big win in Puerto-Rico and a burst of last-minute support from super delegates.
Clinton has 1,812 pledged delegates won in primaries and caucuses, and Sanders has 1,521. She also has the support of 571 super delegates, according to an AP count, compared to 48 for Sanders.