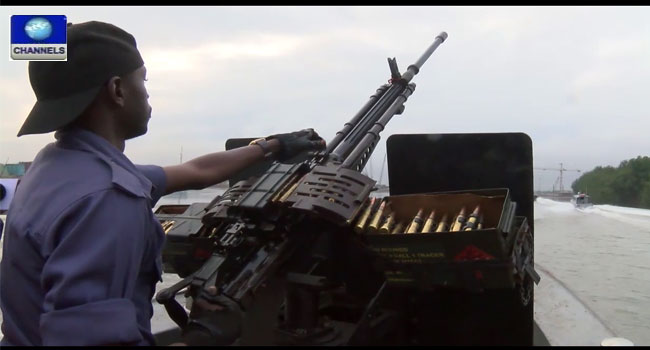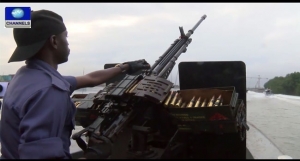 The Nigerian government says military deployment on the waterways in the Niger Delta will continue to man Federal Government's installations in the oil rich region.
This is one of the resolutions reached at meeting the Vice President, Professor Yemi Osinbajo, held on Tuesday with state governors from the Niger Delta area, service chiefs and the Minister of State for the Niger Delta to try to find solution to problems in the region.
Briefing reporters at the end of the meeting, the Delta State Governor, Senator Ifeanyi Okowa, reiterated the need for the state governors to share intelligence with security chiefs.
"We have taken a lot of decisions which we think will help us to mitigate what is going on currently in the states particularly in Delta and Bayelsa," Governor Okowa said.
The Delta State Governor further stated that it was decided that military presence in the region should be de-escalated, though it was agreed that the forces should be kept to provide security and presence while government begins immediate engagement process with the communities in the affected areas.
Asked what the fate of the amnesty programme was, Governor Okowa noted that the Presidential Adviser on the Amnesty Programme briefed the meeting and stated that the programme was actually still on-going.
"We have a Special Adviser in charge of Amnesty and he is doing a lot of work," he added.
He also highlighted the need to remain proactive, believing that a collaboration between the Federal and State governments would help to tackle the issues in the Niger Delta.
At the over four hours meeting, the blowing up of pipelines and vandalism of oil installations by those who many have described as criminals topped talks.
They were said to have adequately been briefed by the service chiefs on the situation in the area.
Some of the decisions taken include a synergy between the Federal and State governments, a collaboration they hope would end the crisis in the region.
The latest attacks in the Niger Delta region by a group that calls itself 'the Niger Delta Avengers' raise question as to what has happened to the amnesty programme and what the youths in the region have done with it.
The Minister of State for Petroleum, Dr Ibe kachikwu, had in a recent meeting appealed to the youths to sheath their swords while some of the governors in the region reminded them that investment could only thrive in a peaceful atmosphere.
Youths in the Niger Delta region may well sheath their swords and watch the Federal Government fulfil its commitment to finding a lasting solution to the problems facing the Niger Delta oil producing states.