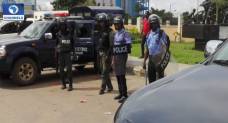 The Kaduna State Police Command has paraded four suspects in connection with the abduction and murder of Colonel Samaila Yunusa in the state capital on March 27, 2016.
Briefing reporters at the command's headquarters on Thursday, the Commissioner of Police, Ibrahim Adamu, said that the suspects were arrested at various locations within the state by his men in conjunction with the Intelligence Response Team that was set up by the Inspector General of Police.
Two AK-47 rifles, one pump action gun, four pistols, ammunition and one Toyota SUV were recovered from them.
Explaining how the late Colonel Yunusa died in the custody of the suspects, the Police Commissioner said that their gang leader, one Emeka Okeke, abducted the victim after they had snatched his car and took him to the Abuja-Kaduna expressway, where he shot him and abandoned his corpse.
On his part, Emeka admitted his involvement in the abduction and subsequent murder of Colonel Yunusa, but stated that his intention was not to kill him, but that the Colonel mistakenly shot himself in the process of struggling with him.
He also confessed to have carried out several other operations in various parts of Kaduna State.
Another member of the gang, one Chijioke Ugwuanyi, confessed to taking part in the operation but denied taking part in the death of the victim.
He said that his duty was to take the late Colonel Yunusa's car to Niger Republic where they usually sell stolen vehicles from Nigeria.
The Police Commissioner also announced the arrest of notorious cattle rustlers and armed robbery suspects who have been terrorizing residents of states within the North West and North Central zones, while over 500 stolen cows, cars of various kinds were also recovered from them.
The Police Commissioner promised that at the end of investigation, all the suspects would be charged to court for trial.