Community Urges Governor To Rehabilitate Roads In Niger State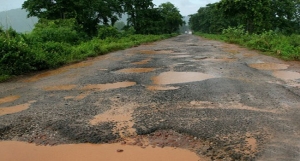 A community in Niger State has appealed to Governor Abubakar Bello to, as a matter of necessity, consider the full rehabilitation of its roads.
One of the residents of Railway community, Abubakar Adamu, expressed dismay over the long abandonment of the community due to alleged victimisation of an individual who was said to be in opposition political party in the area.
He said that the government should be able to have the heart to accommodate everybody, insisting that the present All Progressives Congress (APC) government was looking forward to giving its best in service delivery to the people of Niger State in northern Nigeria.
An elder of the community, Mr Ibrahim Suleiman, who lamented over the situation of the roads, however, expressed confidence in the present administration.
He described Governor Bello as "a man with listening ears and (that) cares for the needy" and urged him to come to the aid of the community he claimed had been abandoned for several years.
Suleiman, who is an APC member, expressed hope that with the initiation of construction of many roads, the Governor would surely rehabilitate the roads that connect to the community, especially the Nnamdi Azikiwe road that links with Pigry – Morris axis.
The Nnamdi Azikiwe road in Chanchaga Local Government Area is one of the first roads constructed that leads to Minna town, but had been allegedly abandoned by the past governments in the last 18 years.