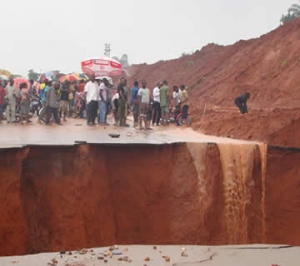 Lawmakers in the Imo State House of Assembly have called on the Federal Government and appropriate authorities to come to the rescue of the people of Ozuomee Urualla in Ideato North Local Government of Imo State before the community is submerged totally by gully erosion.
This plea was made during an emergency visit by some lawmakers from the Imo State House of Assembly to a recent gully erosion site that submerged farmlands and cut off a major road in Ozuomee Urualla.
The lawmaker representing Ideato North in the Imo State House of Assembly, Honourable Arthur Egwim, said that the menace of gully erosion in the area has become a daily occurrence that has continued to sack communities and farmlands.
He said that most communities in the area have been abandoned since everybody now live in fear of being submerged by this natural disaster.
Honourable Egwim said that the level of damage done by the gully erosion cannot be handled by the state government alone but will need the assistance and intervention of the Federal Government through the appropriate agencies to ensure that life is restored to the community.