KPMG Presents Book On Quality Healthcare
Global professional services company, KPMG has presented a book to the Ministry of Health that would help the country plan and establish a universal health coverage system.
The book, presented by KPMG partner and Head of Advisory Services, Kunle Elebute, is aimed at supporting Nigeria in structuring an effective universal health coverage.
It focuses on how to provide an affordable, accessible and quality health care to majority of the citizens, especially the rural poor.
The book, 'In Search Of The Perfect Health System', written by the company's Global Head of Health Care, Mark Britnell, explores seven challenges of health care around the world and transformative forces facing healthcare in the future such as retail revolution and wearable monitors.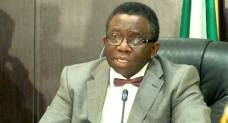 The Minister of Health, Professor Isaac Adewole, said that the structuring of an effective universal health coverage is part of this government's agenda of reaching 100 million Nigerians by 2018.
Professor Adewole said that the 100 copies of the book will be distributed to all stakeholders and key players in the health sector to prepare them for the task that must be accomplished in the sector.