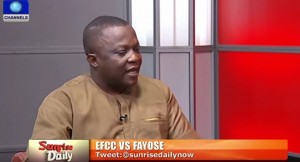 Legal Practitioner, John Oloyede, says the Economic Financial Crimes Commission (EFCC) needs to publish the court order in which the freezing of Governor Fayose's account was effected.
He was on Channels Television's Sunrise Daily to analyse the Ekiti State Governor's insistence that the freezing of his bank account by the Economic and Financial Crimes Commission is illegal.
Mr Fayose was denied access to his Zenith Bank account in the Ekiti State capital on Monday and Mr Oloyede referred to the situation as a lapse on the path on the EFCC as prescribed in Section 341 on the EFCC Act.
He explained that the only way the EFCC can legalise this act is if the condition precedent is complied with.
The condition is that they must apply for an experte motion before a competent court of law, for an order freezing the account or impounding a fund that has been found to be proceeds of a crime.
The legal practitioner stated that if there is a court order given, then the major question left to ask is if the anti-graft agency can freeze an account in the course of investigation.
He admitted that the Supreme Court has made pronouncement that anybody can be investigated whether the person has immunity or not.
Therefore, the EFCC can investigate Governor Fayose, but not prosecute him because of the immunity covering him, which is by the law.