Euro 2016: France, Portugal, Germany Train For Quarter Final Duels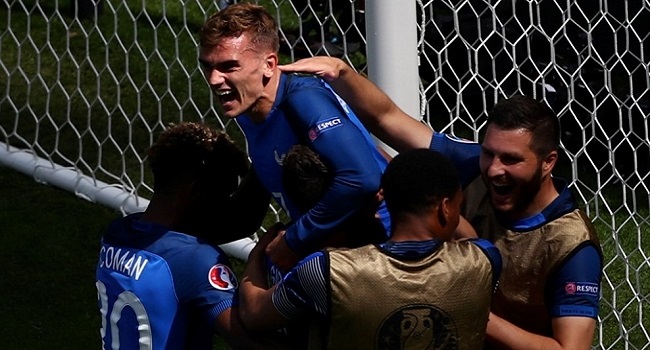 Euro 2016 host, France are back in training in Clairefontaine, after beating Ireland 2-1 on Sunday to reach the quarter-finals.
France will face Iceland in the quarter-finals and the players are wary of the underdogs after their stunning win against England in Nice.
The host finished top of Group A with seven points beating Romania 2-1, edging out Albania 2-0 and playing a goalless draw with Switzerland.
Meanwhile, Portugal defender, Jose Fonte, expects his team's quarter final match against Poland to be a "very tough game".
Portugal have maintained their record of reaching the quarter-finals on all 10 occasions they have taken part at European championships.
Fonte says the Polish team have improved in every game and also cautions his side against the attacking power of Robert Lewandowski.
Germany coach, Joachim Loew, however, insists his team's dismal record against Italy in major tournaments is not a source of trauma for the world champions, who will face their international nemesis in the Euro 2016 last eight.
The Germans, have always lost to Italy in world cups and euro knockout rounds, including in the 1970 World Cup last four, the 1982 World Cup final, a 2006 World Cup semi-final and a Euro 2012 semi-final.
The 2012 defeat was under Loew and was especially bitter, with the Germans, exiting the competition following a 2-0 loss to the Italians.
Loew says his players, who beat Italy 4-1 in a friendly in March, would be fit and rested when they face the Italians in Bordeaux on Saturday.