Ikpeazu Berates Issuance Of C of O To Ogah, Calls It A Travesty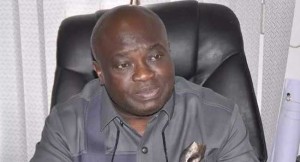 The Governor of Abia State has described the issuance of certificate to Uche Ogah as a travesty.
Speaking through his Special Assistant on Legal Matters, Mr Valentine Offia, the Governor said that the action of the Independent National Electoral Commission is in contravention of the electoral act.
Mr Offia, who is a member of the Mr Chikezie Ikpeazu's legal team explained that the Electoral Act provides a 21-day window for appeal by parties in any election matter.
INEC had issued a Certificate of Return to the runner up in the Peoples Democratic Party primary for Abia State governorship election, Mr Uche Ogah,  following a judgment of the Federal High Court in Abuja.
The Court had asked Mr Ikpeazu to vacate his seat as the Governor of Abia State because he does not possess the requisite qualification to contest the election, in that he did not furnish credible evidence of payment of tax, to the Abia State Government.