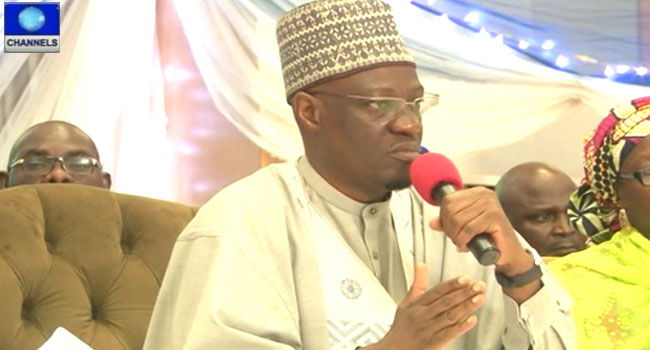 Staff of local governments in Kwara State under the aegis of Nigerian Union of Local Government Employees (NULGE) have been protesting the nonpayment of salary arrears.
The workers took to the streets in Ilorin, the state capital to express their grievances over what they called non-payment of their six months' salary arrears and diversion of the allocation meant for them to offset the teachers' salary.
The protest to Government House began as they moved from the Labour House, Police headquarters before eventually arriving at the gate of the seat of power.
The Police had tried in vain to persuade them to shelve the idea since they did not have Police permit.
Some of the workers who looked tired and worn out especially because it was during the period of fasting, laid down and sat in front of the gate as the security operatives were on hand to maintain law and order.
The State President of the NULGE, Salihu Yusuf, said that they were being owed six months' salary arrears.
He added that since there was improvement in the last allocations from the federation account, they wondered how the government could divert the money to pay the teachers.
In his comment, the State Secretary of NULGE, Abayomi Afolabi, enumerated various challenges being faced and several efforts made to let government see reasons without success.
He said that the local councils have becomes tools being used to siphon money by the governors in the country.
Efforts of the state government to pacify the workers with the presence of the Secretary to the State Government did not yield as they refused to listen to him but insisted on meeting the Governor.
They were later dispersed by security operatives.
Reacting, the Senior Special Assistant on Media to the Governor, Dr Muideen Akorede, explained that the decision to offset the salary arrears of the teachers from the last federal allocation was a joint decision at the joint allocation committee.
Dr Akorede said that he wondered why the workers would turn around to involve in protest when it was the Governor who invited their leadership for meeting.
On the issue of nonpayment of salaries, he said that it was a national issue and not peculiar to Kwara State.
He added that since the government has been transparent in disclosing what comes in monthly, efforts would be made to settle their salaries in conjunction with the local government chairmen who are their employers.
There were reports that the leadership of labour unions which include NLC, TUC and NULGE have agreed to meet with the Governor on how best to put an end to non-payment of salaries of local government workers since the local government chairmen are finding it difficult to pay the workers.