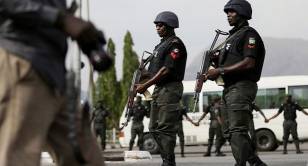 The Acting Inspector-General of Police, Ibrahim Idris, on Thursday, June 30, 2016 deployed a Tactical Operation Unit to flush out vandals and other criminal elements operating in Arepo and Ibafo areas of Ogun State.
According to the Police Public Relations Officer, Don Awunah, the team comprises the Police Mobile Force, the Counter-Terrorism Unit with the back-up of an Air Surveillance Team.
IGP Ibrahim Idris said that the deployment of the Unit to Arepo/Ibafo is to ensure that normalcy returns to the areas in record time.
"The IGP also said that the Nigeria Police Force will not watch any criminal group or groups take the law into their hands, he therefore authorized the Unit to deal decisively with anyone who constitutes himself an enemy of the State, while asking law-abiding citizens of the area to return home and go about their normal businesses," the PPRO said.
Arepo and Ibafo in Ogun State have been in the news due to anti-social behaviours of miscreants.
In another development, the Nigeria Police Force has arrested one Aloysius Ebiniko, said to be the kingpin of the armed gang that abducted and murdered Col. Samaila Inusa on March 27, 2016 in Kaduna, Kaduna State.
The arrest of Aloysius Ebiniko was made possible as a result of a credible technical intelligence employed by the Police after a confessional statement of a member of the gang earlier arrested.
Aloysius Ebiniko will soon be arraigned in court as those earlier arrested in connection with the crime had been arraigned and are remanded in Prison custody.