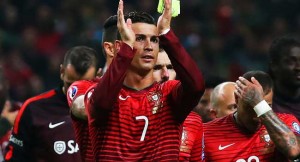 Portugal Captain, Cristiano Ronaldo, hopes to fulfil the dream of winning a competition for his country after securing qualification to the finals of the Euro 2016 on Wednesday.
"The team did a marvelous job to reach the final, it's what we have dreamt of since the beginning.
"We knew it would be a long road and we're still in the tournament. I hope on Sunday you'll see me crying with joy.
"I always said I wanted to win something with Portugal. We're closer to doing it and I believe that we'll win.
"I've been at the highest level for 13 years. The statistics never lie", Ronaldo told Skysports.
Portugal last reached the final of a major tournament in Euro 2004 and Ronaldo was left crying on the pitch as his side lost 1-0 to Greece on home soil.
Ronaldo stated that "This is different…that was my first final, my debut, now 12 years have gone by and we are going to play another final.
"I have always dreamed of winning for Portugal. I hope it is our time now.
"I am very confident. I deserve it, Portugal deserves it, all the Portuguese people deserve it.
"I've always dreamt of winning something for Portugal and now it's just one step away. Dreaming is free so let's keep dreaming."
The Portuguese all-time highest goal scorer, scored a brilliant header also assisting Lius Nani for the second goal, when they beat Wales 2-0 on Wednesday.
Either Germany or France would join Portugal in the final when they faceoff at the Stade Velodrome in Marseille on Thursday.