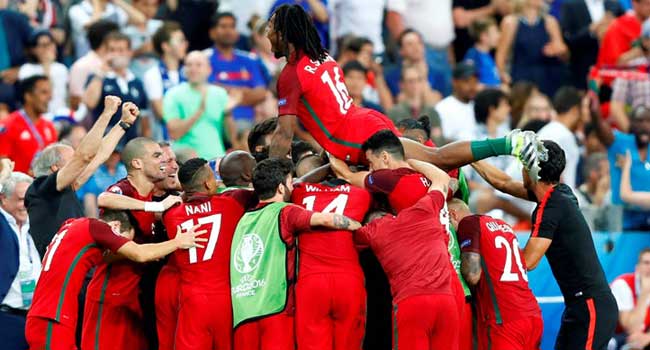 Portugal are champions of Europe after defeating hosts France 1-0 in extra-time in the Euro 2016 final played at the Stade de France on Sunday night.
Substitute Eder was the hero, scoring Portugal's lone goal in the 109th minute.
Portugal had to play most of the match without talisman Cristiano Ronaldo as the captain's second EURO final ended after just 25 minutes after Dimitri Payet had clattered into his standing leg in a tackle after only eight minutes.
Despite receiving treatment, the Real Madrid star was unable to fully recover as he signalled to the bench and was tearfully stretchered and replaced by Ricardo Quaresma in the 25th minute.
Although a big blow for Portugal, the team overcame the shaky reaction to their captain's exit and started to provide some serious challenge to France's early domination.
The first half ended 0-0 and in the second half, France coach, Didier Deschamps withdrew Dimitri Payet for Kingsley Conman to enable them break down Portugal's defensive.
Portugal, however, remained resolute in defense and offering next to nothing in attack.
The game went into extra-time and in the 109th minute, substitute Eder brought the Portugal bench and fans into ecstasy with a fierce low shot that beat Lloris from 25 yards.
Deschamps threw in Antonio Martial immediately to try and salvage the game but it was not to be as Portugal finally won their first ever Euro championships.
Final Pressure
Deschamps' side had completed their run to the final at the Stade de France with a 2-0 win over Germany.
With enthusiasm around the nation reaching fever pitch in anticipation of France's first Euro triumph in 16 years, Deschamps remained confident his players can deal with the pressure.
The 1998 World Cup and Euro 2000 winning captain said that they had learnt from some nervy earlier performances in the group stage and that they would not be overawed by the occasion.