TUC Gives Oyo Govt. 15-Day Ultimatum To Pay Workers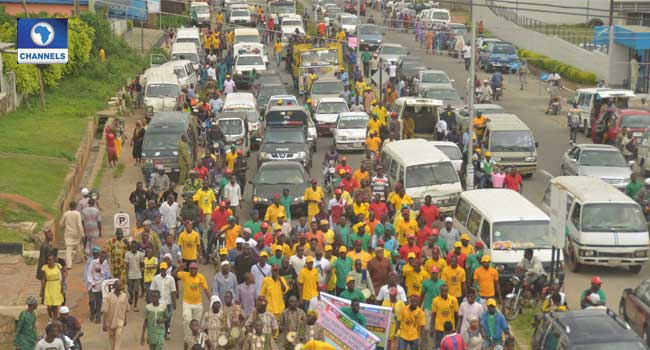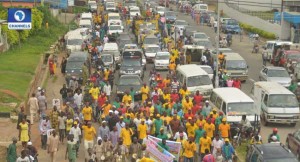 The Trade Union Congress (TUC) has issued a 15-day ultimatum to the Oyo State Government and all governors owing workers to pay up or face mass action in affected states.
Members of TUC at the national level joined their counterparts from Oyo state to protest the non-payment of their salaries for over 6 months.
They called on the Governor of the state, Mr Abiola Ajimobi to urgently find a solution to the lingering crisis.
The Head of Service, Mr Soji Eniade, while addressing the protesters, appealed for calm and assured that the committee to be inaugurated between labour and government will come up with a lasting solution to the problem.
Meanwhile, all public primary and secondary schools in Oyo State remain closed despite the order to re-open the schools by the governor.
In an interview with Channels Television, TUC Chairman, Oyo State chapter, Comrade Niyi Akano, maintained that teachers are not resuming until their demands are met.
A visit round schools by Channels Television Correspondent on Monday, revealed that no school was functional despite the order and labour insists it will remain so until issues at stake are resolved.
In the meantime, the Oyo State Government insists that the proposed participatory management of public schools will happen and to be sure of government's seriousness, a 31 member Education Reform Initiative Committee has been set up to widen the scope of consultations on the project.
Members of the committee were drawn from the University of Ibadan, commissioners from relevant ministries, community and religious leaders, and private sector education practitioners while the NUT, NLC, Ancopps and NANs are expected to submit 2 representatives each for the committee.