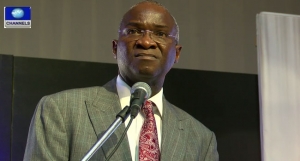 The Minister of Power, Mr Babatunde Fashola (SAN) has attributed the drop in electricity supply from 5000 MW to 2000MW since February 2016, to incessant attacks on gas pipelines by vandals.
He said this while delivering a key note address he delivered at the second edition of the National Council on Power (NCP) Stakeholders meeting in Kaduna State.
Speaking on how to address the current poor electricity supply across the country, Mr Fashola advocated alternative power sources such as solar, wind energy, coal to complement existing hydro and gas.
On his part, the host governor, Mr Nasir El-Rufai asked the Federal government to retain the transmission sector and privatise the DISCOs and GENCOs.
The governor also advocated the restructuring of the National Electricity Regulatory Commission (NERC) in order to make it more proactive and effective.
In doing this, he stated that competent and experienced experts should be engaged to man the regulatory agency.
He specifically urged the Ministry of Power and other stakeholders to consider solar energy since it is cheaper and efficient, adding that Nigeria is blessed with abundant sun which could transformed into solar energy.
The 2nd edition of the National Council on Power stakeholders meeting had the theme "Achieving Incremental, Then Uninterrupted Power" was organized by the Ministry of Power, Works and Housing.
The NCP stakeholders meeting provides a platform for the ministry to interact with all stakeholders in the power sector in order to provide a road map to address the challenges in the sector.