Victims Support Fund Rebuilds 39 Government Infrastructure In Dikwa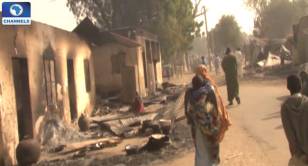 The Victims Support Fund (VSF) has rebuilt 39 government buildings destroyed by insurgents in Dikwa Local Government of Borno State.
Chairman, Presidential Victims Support Funds, Gen. Theophilus Danjuma (rtd) commissioned the 39 projects worth N250 million.
This according to the Chairman is to enable Internally Displaced Persons presently living in camps, resettle in their home town.
He noted that the VSF has for the last one year been providing support for displaced persons, who are victims of the northeast Nigeria insurgency.
The projects include four bore holes, a general hospital, local government secretariat, police barracks and houses for resettling IDPs from camps to Dikwa Township.
Gen. Danjuma was received by Governor Kashim Shettima at the Maiduguri International Airport from where they drove to the ancient town of Dikwa where the projects were commissioned.
He said insufficient funds has been slowing down the rebuilding programmes of the committee as many pledges made are yet to be redeemed.
Governor Shettima thanked the VSF for its unique style of intervention, calling for more of such gestures from well-meaning organizations and individuals.
The Victims Support Fund was set up to raise funds for victims of Boko haram insurgents in north East Nigeria.
Plans are underway to commence rebuilding of Bama, another Borno town destroyed by the insurgents.
The Victim Support Fund, according to Danjuma, is also interested in empowering women and children as well as resettling displaced victims of insurgency.