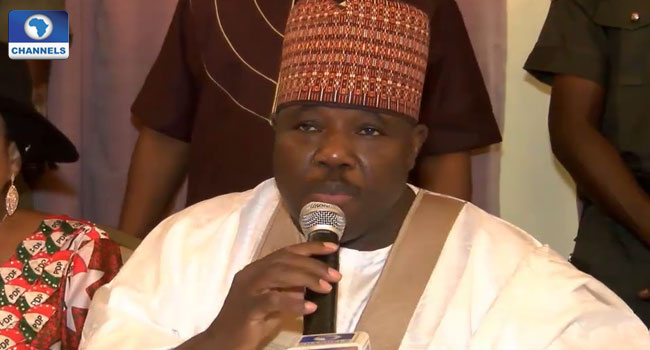 A Federal High Court sitting in Abuja has affirmed Mr Ali Modu Sheriff as the authentic national chairman of the Peoples Democratic Party (PDP).
According to Justice Okon Abang, only actions and decisions made by the Sheriff-led leadership are lawful and binding.
He, however, said that although he has the powers to nullify the ruling of the Port Harcourt division of the Federal High Court, which recognized the Makarfi-led leadership, he would not do so because there is no application to that effect before him.
Hence he would allow the Court of Appeal to do justice to that.
The court held that the convention held in Port-Harcourt on May 20, was held in violation of the two court orders of the Lagos division of the Federal High Court which barred the PDP and INEC from holding the convention.
Justice Okon Abang, in his ruling barred the Makarfi-led caretaker committee from exercising any authority or taking any decision on behalf of the PDP henceforth on account of been an illegal body.
According to Justice Abang, the Makarfi-led group missed their way to Port Harcourt to obtain a judgement from a division of the Federal High Court which is a court of co-ordinate jurisdiction to that of Lagos to obtain a favorable judgement.
And that the judgment which recognized the Makarfi-led caretaker committee is unlawful, illegal and has no foundation in law to stand.
He held that until the orders made by the Lagos division of the Federal High Court which restrained PDP from holding a convention at the time it did was set aside, anything done in contravention of the two subsisting orders are unlawful, illegal and should not be recognized.
The Ahmed Makarfi-led PDP had approached an FCT High Court challenging the power of Justice Okon Abang to hear the suit filed by Senator Sheriff.
They specifically asked the court to restrain Justice Abang on the grounds that there is a circular from the Chief Judge of the Federal High Court restraining all judges handling PDP leadership tussle cases to stop further action pending the outcome of the appeals before the appellate court.
But the prayers were not granted by Justice Olukayode Adeniyi, who held that the application lacks merit, as the applicant who is listed as PDP is not a natural person as such not entitled to any fundamental human rights.
This was after Mr Ali Modu Sheriff and eight others approached the Federal High Court, Abuja for an order of interlocutory injunction restraining the Independent National Electoral Commission (INEC) and the party from conducting the national convention slated for August 17.
He also wanted an order restraining the PDP from presenting anybody or sponsoring any person for election into its offices pending determination of the suit.
He asked for an ancillary order directing the Nigerian Police to enforce the orders of the court until all applications are disposed of.