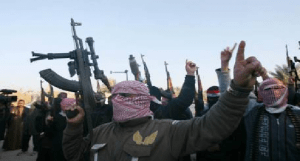 The Syrian Jabhat al-Nusra, otherwise called Nusra Front says it has split from the al-Qaeda group, spurring suggestions it might be trying to join the Islamic State (IS) in Syria.
In a video message posted online, the Leader of the jihadist group, Abu Mohammed al-Julani, said that the group would be known by its new name, Jabhat Fateh al-Sham which means 'front for the conquest of Syria'.
Al-Julani explained that the purpose of the move was to eliminate the ploy used by powers.
Analysts say the Nusra Front decided to re-brand itself after the US and Russia stepped up military efforts against its activities.
Last week, US Secretary of State, Mr John Kerry and his Russian counterpart, Sergei Lavrov, agreed to take what they called 'concrete steps', to tackle jihadist groups like the Nusra Front and the IS.
Both have been listed as terrorist organisations.