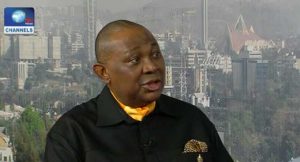 A strategic security consultant, Max Gbanite, has challenged the Nigerian government to ensure it engages in dialogue with Niger Delta militants from a position of strength.
Mr Gbanite made the call on Monday while giving his opinion about the reports that the Federal Government had struck a deal with the Movement for the Emancipation of the Niger Delta (MEND), to end the crisis in the Niger Delta region.
"Whether you are going to negotiate, talk or discuss, any reasonable government must do that from a position of strength," he said on Sunrise Daily.
Element Of Believability
While the security expert supported government's dialogue with militants, he expressed concern at the position of the government in the matter.
"It is good to negotiate with MEND, it is good to negotiate with the Avengers, it is good to negotiate with the IPOB (and) it is good to even rehabilitate some Boko Haram people (after all they are all Nigerians), but the issue is what is government's position?" Gbanite questioned.
While emphasizing the need for Nigerians to be aware of the progress, he insisted, "Until government comes out to say we have indeed negotiated and these are the outcomes of the negotiation, then there is believability".
He challenged the spokesmen for the President, Mr Femi Adesina and Mr Shehu Garba, to "come out and say we are indeed (negotiating)", insisting that "there must be an element of believability".