Nigeria Urges Africa To Collectively Tackle Climate Challenges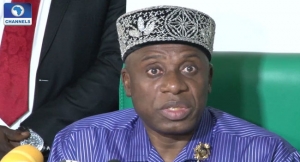 Nigeria has called on African countries to act in a collective and collaborative manner to tackle climate related challenges bedevilling the continent.
The Minister of Transportation, Mr Chibuike Amaechi, made the call on Friday in Abuja during a meeting of the Council of Ministers in charge of National Meteorological Services in ECOWAS member countries.
Mr Amaechi described Africa as one of the most vulnerable continents to the impact of global warming and climate change.
Increasing Poverty
He believes that drought and desertification were responsible for forced trans-boundary migration of persons and increased security challenges in Africa.
The Minister added that the consequences of climate related challenges were impacting negatively on agriculture and increasing poverty in the continent.
The Chairman of the Council, Bushuben Keita, encouraged the ECOWAS member states to improve their climate monitoring capacity.
A representative of the Secretary General of the World Meteorological Organisation, Bennard Gomez, also advised the member states not to ignore the current climate challenge.
The meeting continued behind closed doors and it is expected to adopt the ECOWAS Meteorological Programme.
The fundamental objective of the programme is to improve the quality of meteorological services in member countries, so as to reduce the risks associated with extreme weather conditions.