Raise Funds, But Don't Increase Fees, Aregbesola Tells New Varsity Council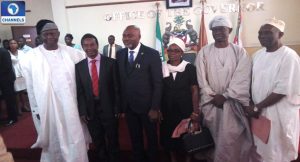 The Governor of Osun State has asked the new Governing Council of the State's University to think of new ways of raising funds for the institution that will not lead to hike in school fees.
Governor Rauf Aregbesola made the demand on Monday while addressing the council led by Malham Yusuf Alli, who was appointed as the Pro-Chancellor of the Osun State University.
The inauguration ceremony for the council, which had six other members, was held in Osogbo the capital of the state.
"Think of new ways and approach of raising funds for the institution," Governor Aregbesola told the council.
According to the Governor, their method of raising funds for the institution should not lead to hike in school fees of the students so as not to create more burden for the children of middle class citizens.
While urging the new Council members to consolidate on the achievements of the former members of the council, Mr Aregbesola called for innovation to achieve better results.
He also tasked the council on helping the university attain a world class standard with their wealth of experience, time and resources.
In his inaugural speech, the Pro-chancellor and Chairman of the council, who is also senior lawyer, assured the Governor that the members would do their best to meet expectations of the government to take the university to the next level.
He promised that the council would be guided by the philosophy of best practices for the system irrespective of individual aspirations.
The Board has Sir Benjamin Aladekomo, Engineer Tunde Ponle, Professor Charles Alao, Doctor Abeke Omotoso, Professor Kasali Adegoke and Dr Solomon Adeboye as members.