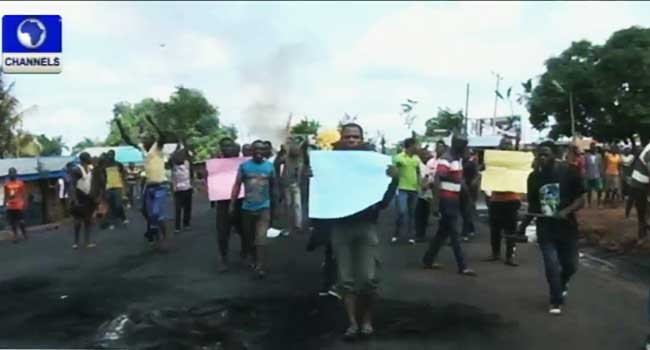 Staff of the Abia State Hospital Management Board are bitter over non-payment of their salaries within the last six months.
In a protest in front of their office, the workers dressed in black, numbering about two-hundred, lamented over the hardship they are experiencing and appealed to the government to do the needful.
The State's Commissioner of Finance, Mr Obinna Oriaku, however, said the protest has a political undertone.
He said a recent verification exercise conducted, revealed a lot of irregularities that brought down the wage bill from N100 to N64 million and considered the protest to be unnecessary, as they had received a month's salary.
The protesters were seen carrying placards with different inscriptions such as: "Stop The Removal/Slashing Of Our Allowances", "Our Children Are Thrown Out Of School For School Fees" "Landlords On Our Necks", amongst others, while the gate and entrance to the offices were kept under lock and key.
Mr. Oriaku stated further that the government would not be distracted or intimidated as it is doing everything possible to clear the arrears.
He also insisted that the protest is politically motivated because as a parastatal, they ought to generate their salaries and raise revenue for the government, which they have not been doing.
The workers have insisted that their protests will continue until the government listens to them and takes positive action as every worker is worthy of their wage.