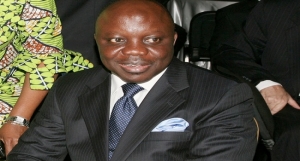 Former Governor of Delta State, Dr. Emmanuel Uduaghan, on Thursday said the National Human Rights Commission (NHRC) was wrong to have accused him of being involved in electoral malpractice during the 2007/2011 general elections.
Reacting to the accusation, he said that the NHRC did not properly study the judgment of the Appeal Court in Benin, which removed him.
The former governor added that the judgment later proved to have been wrongly given against him.
He noted that if the commission had studied the case, they would not recommend him for prosecution.
Mr Uduaghan also expressed concern over the refusal of the NHRC to invite him to hear his side before making its report public.
The NHRC report on ending electoral impunity had indicted 118 persons of committing various forms of malpractices and violence during the 2007/2011 general elections in Nigeria.
Amongst those indicted by the report were Dr. Uduaghan, former Governor of Edo State, Professor Oserheimen Osunbor, a former acting Governor of Kogi State, Clarence Olafemi and a former Chairman of the Independent National Electoral Commission (INEC), Professor Maurice Iwu among others.