Oyo Govt. NEMA Begin Flood Prevention Campaign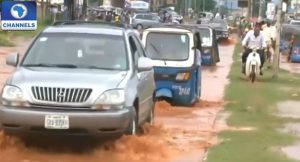 The Oyo State government and the National Emergency Management Agency (NEMA) are creating awareness on flood prevention and control, as flood alerts become more intense.
The Commissioner for Environment and Water Resources, Mr Isaac Ishola, gave reporters a hint about the collaboration in Ibadan, the capital of the state in Nigeria's southwest region.
He said that the ministry had begun sensitisation campaign on the proactive measures to mitigate the effect of likely flood.
Mr Ishola also noted that the government would deal with anyone caught dumping refuse on the waterways.
NEMA Southwest Coordinator, Mr Akande Iyiola, also stated that officials of the agency have started addressing the people on the need to improve on hygiene and desist from blocking waterways with refuse.
He also appealed to those living near the waterways to evacuate such places.

The synergy between the government and NEMA is coming on the heels of warning signals contained in flood alerts issued by meteorologists at the Nigeria Hydrological Services Agency, to prepare Nigerians in the listed states on steps to take to avoid or at least reduce loss of lives and property in such areas.
In some of the flood endemic areas within Ibadan visited by Channels Television crew, construction works on bridges and culverts are in top gear, as part of efforts to find lasting solutions to flooding disasters.
Construction work has begun in four of the 14 flood prone sites identified by the World Bank while awareness campaign has been intensified across the state to prevent reoccurrence of the August 2011 flood disaster in the state.