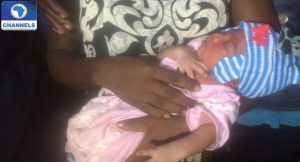 The Imo state police command has rescued a 3-day old baby, born to the family of Mr and Mrs Oluebube Ekwedike of Umuezealaowerre Ehime Mbano Local Government Area of Imo State.
While reuniting the baby with his parents on Monday, the Imo State Police Commissioner, Taiwo Lakanu, said the baby was said to have been stolen by unknown child thieves barely 48-hours after the baby was given birth to at the Chukwunonso Maternity in Isiala Mbano Local Government Area of Imo state.
At The Verge Of Selling
He said that after the issue was reported to the police, the men of the command swung into action and arrested two suspects who were at the verge of selling off the baby.
The mother of the baby, Uchechi Ekwedike, 21, who could not hide her joy seeing her baby again, said she was tricked by the culprits in order to steal her baby.
After reuniting the baby with his parents at the command headquarters in Owerri, the capital of Imo State in southeast Nigeria, Mr Lakanu said despite the numerous warnings for people to desist from child stealing and trafficking, some persons were still adamant in causing pain and sorrow on innocent members of the society.
He said: "My team, the entire Imo State Police Command, will not rest on its oars to ensure that criminal offenses are brought to its barest minimum in the state.
"It is so unfortunate that such barbaric behaviour still exists amongst our people. But the arrest of these ones should serve as a deterrent to other child thieves across the state and to make them realise that no matter how smart they are, the hands of the law will catch up with them".
While speaking to reporters in an incoherent manner, the prime suspect, Mrs Ngozi Anyanwu, claimed that the act was not intentional as it was targeted at the owner of the maternity home who she claimed was owing her some amount of money prior to the incidence.