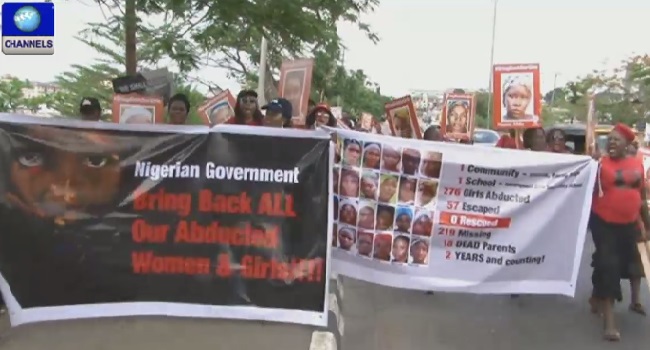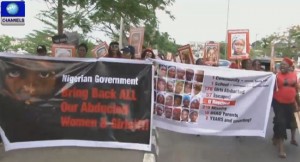 Security operatives on Monday prevented a peaceful procession of the Bring Back Our Girls Group (BBOG) from reaching the Presidential Villa.
The protesters were joined by the suspended Nigerian Immigration Service (NIS) recruits, who have been demanding reinstatement.
The procession, on its way to see the President and demand an update on the abducted Chibok girls, was stopped at the Independence Avenue by security operatives, who were "acting under strict orders".
The protesters decided to occupy the road, where they eventually conducted their sit-out while Police and officers of Nigeria Security and Civil Defence Corps (NSCDC) stood guard to prevent any breakdown of law and order.
Addressing the protesters, former Minister of Education, Oby Ezekwesili, explained that the march was organised after the failure of Federal Government to take action on the video of Chibok girls released by their abductors on August 14.
The Co-Convener of the Group, Aisha Yesufu, urged the Federal Government to seek help from the international community to rescue of the girls.
"We call on President Barack Obama of the United States, Prime Minister Theresa May of the United Kingdom, President Hollande of France, Prime Minister Trudeau of Canada and Prime Minister Benjamin Netanyahu of Israel, in particular to support Nigeria with all their military and intelligence assets to rescue or secure the release of our Chibok girls," she said.
The BBOG called on President Muhammadu Buhari to swiftly make a firm decision for the immediate rescue of the missing girls.