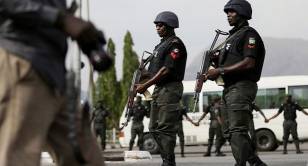 The Federal Government has been asked to reconsider the suggestions in some quarters for the setting up of state police across Nigeria.
A former Minister of Police Affairs, Dr. Ibrahim Lame, made the call at a forum on good governance in Abuja, the Federal Capital Territory.
Grossly Incapacitated
He said the Nigeria Police Force was grossly incapacitated to take care of the security needs of the people.
Dr. Lame added that only effective community policing could address the recent rise in communal clashes experienced in Nigeria.
He highlighted the security of lives and property as the primary objective of any sensitive administration and should be taking seriously at all times.
In their remarks, the Catholic Archbishop of Abuja, John Cardinal Onayekan and an aide to the Enugu State Governor, Dr. Malachy Ochie, focussed on how to ensure good governance and stability in the polity.
Some participants at the gathering also suggested how to provide the dividends of democracy to the people.
They noted that it must be backed with a strong political will by those in government.