Okorocha Asks Imo Indigenes To Bear Hardship Caused By Road Expansion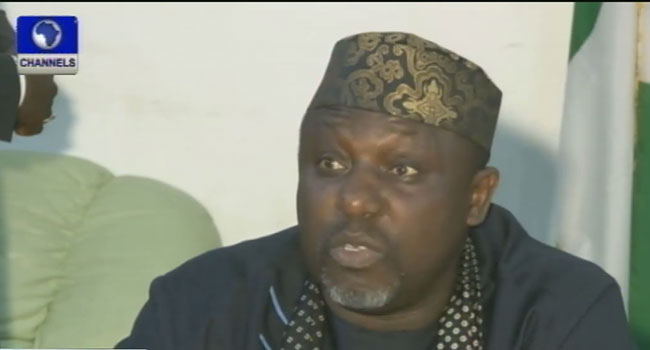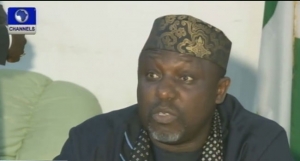 The Imo State Governor, Rochas Okorocha, has made a passionate appeal to Imo indigenes to be patient with his government, and bear the hardship caused by ongoing road expansion, rehabilitation and urban renewal programme.
The Governor made the appeal on Friday in Imo State's capital, Owerri while inspecting some of the ongoing road expansion and rehabilitation projects.
Governor Okorocha said his intention was to build Owerri as one of the finest cities in Nigeria where traffic congestion would be a thing of the past.
He said full work on the roads would commence immediately after the rains.
"You know you can't make an omelette without breaking an egg. I am aware of the traffic congestion caused by this road expansion and urban renewal programme. Our people should please be patient. The rains have caused more delay for us, but I promise after the rains, work will start fully on these roads", Okorocha told reporters.
He also stressed that his dream, as Governor and leader, was to make Owerri one of the most beautiful cities in Nigeria where we will never experience traffic in the next 50 years.
China Roads
Despite these promises, the opposition Peoples Democratic Party (PDP), however, is not satisfied with the state of the rehabilitation works.
Earlier at a press conference in Owerri, Ahmed Makarfi faction of the PDP in Imo state criticised the road rehabilitation and expansion, describing it as a "calculated attempt to cause untold hardship on indigenes of the state".
The Chairman of the party, Mr Charles Ezekwem, said: "Today in Imo state, it takes you about one hour to get to World Bank Housing Estate from Ama J.K. or Bank Road. Our China roads have all been washed away and gotten so bad with just the beginning of rainy season. There's avalanche of abandoned projects littering everywhere".
The road expansion spans through most of the major and important roads within the state capital which in turn has caused a heavy gridlock within the metropolis, attracting so much criticisms from various quarters.
To also cushion the effect of the traffic, the Governor also directed that all Lorries and big trucks should desist from using major roads within the state capital by day until 11p.m local time.