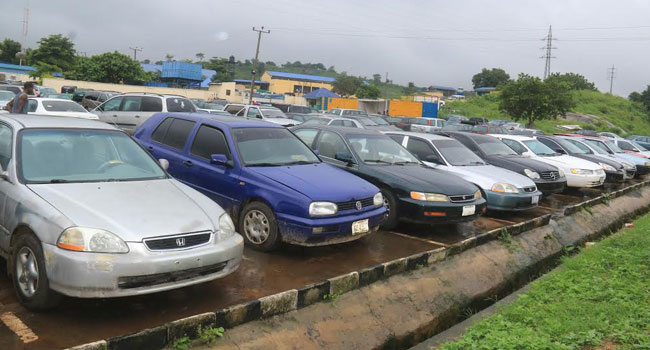 A Special Tactical Squad set up by the Acting Inspector General of Police (IGP), Ibrahim Idris, has arrested 29 car snatching suspects from different states Nigeria.
Twelve exotic vehicles were also recovered by the squad, which says the operation to end car hijacking and stealing in Nigeria would continue.
In a statement by a spokesman for the Police, Don Awunah, a list of the arrested suspects and the vehicles recovered were given, with the police advising Nigerians to check through the list for possible identification of their vehicles.
Owners are required to provide proof of ownership to enable them reclaim their vehicles.
The recovered vehicles are currently in safe-keeping at the IGP Special Tactical Squad on Heinous Crime facility at SARS premises old Abattoir Guzape District, Abuja, the statement read.
The spokesman for the police also said that the Special Tactical Squad working on intelligence sourced in Kogi and Edo States, also arrested eight suspects in connection with kidnapping, armed robbery and cattle rustling in the two States.
Three AK 47 rifles and 147 rounds of ammunition were recovered from them.
"All the suspects confessed to the crime and have admitted to the various roles they played in the commission of the offence.
They will be arraigned in court at the close of investigation," the statement further read.
The IGP assured members of the Public that the force was being repositioned with modern crime fighting techniques to tackle crime and criminalities in the country.
List of recovered vehicles.
EXHIBITS RECOVERED
| | | | | |
| --- | --- | --- | --- | --- |
| S/N | VEHICLE MAKE | REG. NO. | CHASSIS NO. | COLOR |
| i | TOYOTA COROLA MODEL 1983 | BUU 567 TG | JTILOAE820020578 | LIGHT GREEN |
| ii | PEUGEOT 206 | NIL | VF32AWFZE40911994 | ASH |
| iii | HONDA (DC) | TRN 704 SY | 18GCM56836A046647 | BLACK |
| iv | TOYOTA CAMRY LE | KMK 108 AQ | 4T1BG22K4WU386224 | WHITE |
| v | MERCEDES 4MATIC | NIL | WDBRF6IJ42F200992 | BLACK |
| vi | HONDA CIVIC | BU 669 EKY | JHMEK355005108661 | ASH |
| vii | HONDA ACADEMIC | CU 518 APP | 18GCD5650VA012475 | BLACK |
| viii | GOLF 3 WAGON | RBC 416 JT | MVWZZZIHZWBO61315 | DARK BLUE |
| ix | HONDA CIVIC | NIL | ZHGEJ6675WH519691 | ASH |
| x | HONDA CRV JEEP | NIL | JHLRD1852VC054054 | GREEN |
| xi | HONDA ACADEMIC | LKJ 182 AC | IHJCZ5608VA268268 | ASH |
| xii | HONDA ACADEMIC | AG 280 KJR | IHGD5650TA073077 | RED |