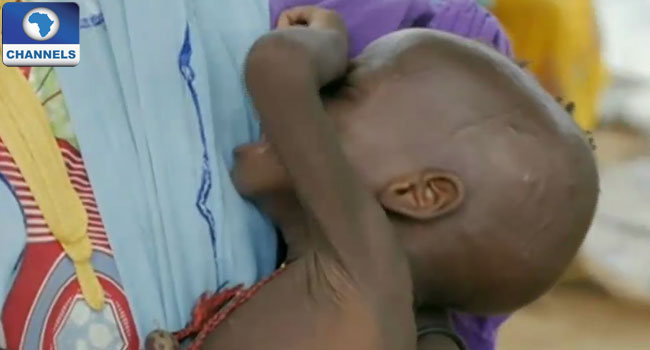 UNICEF on Saturday said there are chances of survival for severely malnourished children in Nigeria's northeast ravaged by over six years of insurgency.
Nutritious foods and community mobilisers that will go from door to door in the affected region to get the affected children to places they could be treated are some of the aid UNICEF said would help address the situation triggered by Boko Haram insurgency.
'Skin Over Bones'
The Chief Nutrition Section of UNICEF Nigeria, Arjan De Wagt, told Channels Television that aid to the malnourished children had been hampered by insecurity in the region.
According to him, 240,000 children are severely malnourished with their 'skin over their bones'.
"They are so severely malnourished that if nothing is being done they are at a very high risk of dying.
"About one out of five of these children will die if they don't receive these special support that they need," he stated.
Mr Wagt said a total of 49,000 persons, including some pregnant and nursing mothers, could die before the end of the year.
"This figure by the way is 28 children per day. Eight children dying every hour if nothing is being done.
"These children do not need just normal food aid. They need treatment for their severe condition and there is a very specialised product we need for that.
"This calls for therapeutic food and it is a very special treatment for severe malnutrition," he stressed.
'Nutrient-rich Food'
The UNICEF official acknowledged that there was food aid ongoing, but stressed that the food was not suitable for the children that were of very young age and moderately malnourished.
"They need more nutrient-rich food.
"UNICEF work very close with Americans, Japanese, British and many other non-governmental organisation and donors. They are supporting our efforts to try to reach as many children that are in need of this support.
"But if we have community mobilisers that will go from house to house to measure the child's malnutrition stages, we will be able to deliver the aid directly to the malnourished.
"You need more food aid and more nutritious food aid for children and pregnant women," he reiterated.
Giving an update on the number of malnourished children that have been reached, he said at least 7,000 children had received aid in Borno State.
"It [aid] needs to reach at least 20,000 to be able to reach all those in need of the product.
"Supports that have come so far are coming too late in some parts of Borno because of the insurgency.
"UNICEF is concerned about the health of women and children that are malnourished in these areas that could not be reached because of the security situation," he explained.
On the food needed to save the children from dying, he said that they could be sourced from Nigeria.