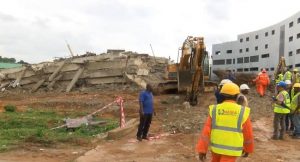 Two construction workers trapped in a four storey building that collapsed in Gwarinpa Estate in Nigeria's Federal Capital Territory, Abuja, have been found dead by rescue workers.
The Director General of the FCT Emergency Management Agency, Mr Abbas Idris, told Channels Television that the deceased were brought out of the rubble fatally injured.
Two out of the six other victims, who were earlier rescued, have been treated and discharged from the hospital.
Rescue workers had started search minutes after the building caved in and continued the search through the night to a second day for the two construction workers trapped in the rubble.
The six rescued persons were brought out on Monday.
After an all-day evacuation of the debris, emergency officials discovered bodies of the two workers late Tuesday evening
The removal of the two bodies brought the massive rescue operation to an end.
Earlier in the day, the Minister of Power, Works and Housing, Mr Babatunde Fashola, was at the site, where he assured the families of the victims that investigation had commenced.
He also gave likely reasons for the collapse, citing unprofessionalism and poor quality of materials.
Mr Fashola also frowned at builders who mix cement on building sites without technical supervision.
For Timothy Otsergar and Timothy Bedji, two of the survivors, it was a close shave with death.
The two construction workers were on the second floor when the building collapsed.
They say they are still in shock as to what happened at the site.
Officials of the National Emergency Management Agency had worked round the clock hoping to get Timothy's colleagues alive, the Director, Research and Rescue of the agency, Air Commodore Salisu Mohammed, said.
He told Channels Television that the corpses have been deposited at two hospitals in Abuja.
Efforts to see the remaining victims who are said to be receiving medical care at Gwarinpa General Hospital failed as security officials prevented Channels Television's crew from going into the hospital.
Addressing reporters after the building collapsed, the Acting Coordinator of the Abuja Metropolitan Management Council, Mrs Safiyat Umar, explained that the building was standing on a flood plain which caused the collapse.
She blamed the Federal Housing Authority for giving the approval for the construction of the building.
This is the second building collapse in Abuja in less than one week.
A building had on August 24 collapsed in Apo Mechanic Village in the same city.