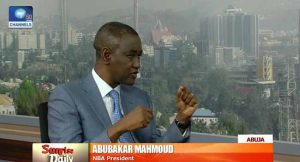 The newly elected president of the Nigerian Bar Association (NBA), Mr Abubakar Mahmoud, is not softening his stance that the EFCC be stripped of its prosecution powers.

Speaking on Channels Television's breakfast program, Sunrise Daily, Mr Mahmoud insisted that critical institutions of government must be reformed to confront the problem of corruption in Nigeria, on a sustainable basis.
Following his inaugural speech on Friday, there have been agitations since the NBA president suggested that duties of the EFCC should be restricted to investigation and not prosecution.
In reaction to the statement, the commission said that the suggestion was a cleverly disguised plan by the NBA and groups of people who were against the EFCC's anti-graft campaign.
The NBA president in response, maintained that the controversy was unnecessary, as the association does not seek to emasculate the EFCC.
To further clarify the issue, he said that "when it comes to prosecution, there are two major powers which are the investigative and [email protected]
According to him, the norm is that separate agencies conduct investigations and prosecutions, but he also said there could be exceptions.
Explaining the duties of the EFCC, he said the commission was only supposed to focus on highly specialised areas, such as financial crimes of certain magnitude.
"You can't have the EFCC operating broadly and getting into everything without any thresholds.
"The law must define the thresholds and the parameters on the basis of which the EFCC will now wade into those sort of battles," he added.
Mr Mahmoud stressed that he understood the extent of the prosecution and investigative powers and also the need to regulate them; as they should not be handled solely by one body.
Proper Regulatory Framework
He maintained his position, saying that any decision taken by prosecutors is a very important one and there should always be clear institutional safeguards as well as a proper regulatory framework, to guarantee justice and fairness.
The lawyer further encouraged Nigerians and institutional bodies to debate issues without fear of intimidation.
Giving reasons for his suggestion, Mr Mahmoud further stated that there was no institutional form that should be sacrosanct in any democratic environment.
"Every institution should be scrutinised.
"Its performance and responsibilities should be continually subjective to discussion," the NBA president added.