Facebook Defends Data Sharing With WhatsApp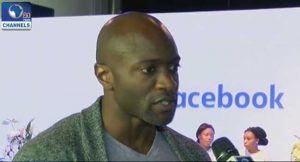 Tech giant, Facebook has defended its proposed data sharing scheme with messaging application, WhatsApp.
The Director of Global Products Partnership at Facebook, Mr Ime Archibong, explained the reasons for the policy on Wednesday in Lagos State, southwest Nigeria.
"One of the policy changes that we made recently was all about trying to make sure we could unlock the business user connections that already exist," he said.
Archibong told Channels Television that the plan would enable small scale business owners to leverage on WhatsApp, as a powerful platform for their businesses.
He also expressed optimism that the development would contribute greatly to the growth of Africa and the world at large.
"It is going to be really good for the continent. It will be really good for countries around the world and I'm pretty excited about it," he said.
The Facebook CEO, Mark Zuckerberg, on Tuesday arrived in Nigeria on his first trip to sub-Saharan Africa.
Zuckerberg had used his time in the country to visit the Yaba technology hub in Lagos, met with developers and partners, as well as explored the Nollywood.
He said he would also listen, learn and take ideas back to California on how Facebook could further support tech development and entrepreneurship across Africa.