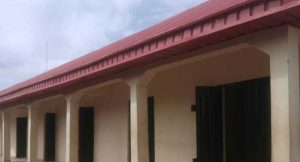 Ekiti State government has warned those selling goods with containers at the popular Fayose Market to vacate the market premises on or before Monday September 5, 2016.
Governor Ayodele Fayose gave the warning on Thursday while allocating the newly completed 40 lock shops by his government to intending buyers.
He promised to embark on the construction of another face upon the completion of payment by the buyers.
According to him, some of the buyers had obtained forms from the government.
To ensure that the allotment was fair, he has adopted an open ballot system in allocating the shops to the intending buyers.
At the end of the exercise, Governor Fayose asked traders with containers to vacate the market or face stifling penalty
He added that his administration remained committed to transforming the market to an international standard.
The Chairman of the market, Mr Kehinde Badmus, said over 60 applicants obtained forms and that they all went through the process of picking a number with winners given a one week ultimatum to pay for the shop.
He also commended the Governor's initiative in transforming the popular Fayose Market in Ado Ekiti, the capital of the state in southwest Nigeria.