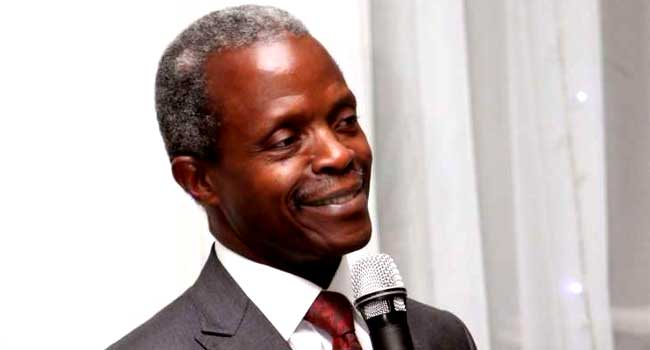 Vice President Yemi Osinbajo has again urged Nigerian youths to look beyond university education and acquire skills that would help them to better advance their careers.
Speaking at the convocation ceremony of Redeemers University, Ede, in Osun state, the Vice President encouraged young graduates particularly to be diligent and take advantage of various international training platforms to improve their status.
He urged them and other students in higher institutions across the country to be innovative to liberate the nation from dependency on developed nations of the world.
Osinbajo, who is the Chairman Board of Trustees of the institution, also admonished the graduating students to be good ambassadors of the institution.
He attributed his status in public service to diligence, honesty, resilience and faith in God in the face of various challenges of life.
"If I had stolen in various capacities I found myself in the past, I won't be where I am today. My character speaks for me even when I am not on ground to speak for myself. I want you to emulate this and God will take you to the top," he said.
Recession Will Not Last
The Vice President also assured Nigerians that the economic recession in the country will not last long with mechanism being put in place by the Federal Government.
Professor Osinbajo disclosed that there was no way Nigeria could have avoided the recession since it had in February 2016 lost 60% of its revenue to the activities of saboteurs.
He also identified pipeline vandalism, coupled with the errors of past leaders as some of the reasons for the country's current economic situation.
A former Chief of Army Staff, Retired General Theophilus Danjuma, who was installed the Chancellor of the institution also called for serious investment in the education system in view of its impact on the socio-economic development of the country.
Best Graduating Student
At its 8th convocation ceremony, the institution sent forth 619 graduands for the 2016 set, nicknamed 'Chosen Generation'.
Mr Opeoluwa Samuel Adewale-Fasoro in the Microbiology department with a CGPA of 4.97 emerged as the overall best graduating student.
The Vice Chancellor, Professor Debo Adeyewa, said: "Opeoluwa is strong in all ramifications; academically, he is a future Nobel Laurette; spiritually, he is a commando for Christ, while in sports, he is a gold medalist.
He is the ideal son of any parent and the role model in a top notch environment like Redeemers University.
"In accordance with our policy, the university gladly offers ‎him graduate assistant-ship plus a full scholarships for his post-graduate programmes, tenable in this institution as a worthy Ambassador of the Chosen Generation set."