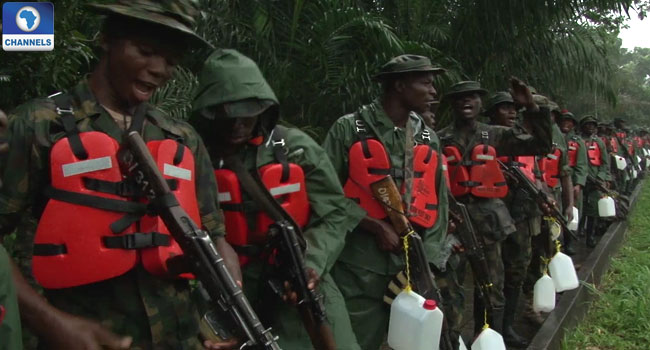 The Nigerian Army training exercise code named 'Exercise Crocodile Smile' has officially ended at Brass in Bayelsa State.
The exercise was launched nearly two weeks ago, with the responsibility of traversing the South-South geo-political region.
It was set up to also provide a practical training for Special Forces and other units of the Nigerian Army in Amphibious and Internal Security Operations in riverine environment
Troops were also mandated to provide adequate security for residents as well as critical national economic assets in the region.
Largely Successful Exercise
The exercise, which the Chief of Army Staff, Lieutenant General Tukur Buratai, described as largely successful also enabled the Nigerian military to offer educational materials to some primary schools in Brass Town.
The soldiers have had to survive in this riverine environment which for many of them was their first time in such a place.
They are in a celebratory mode, as they await the official pronouncements signalling the end of "Exercise Crocodile Smile" which was also meant to check criminal activities like kidnapping, militancy, piracy and other forms crime.
It offered the soldiers a first-hand knowledge of the Niger Delta terrain.
Addressing the soldiers, the Permanent Secretary of the Federal Ministry of Defence expressed the government's appreciation over the commitment to duty shown by the officers during the few days training exercise.
He assured them that the dependants of the four soldiers, who lost their lives in the course of the exercise, would be adequately catered for by the Nigerian Army.
At least two soldiers were reported to have drowned when their boat capsized during a patrol along the Brass Water Front in Brass Local Government Area of Bayelsa.
Some others soldiers were rescued while service rifles belonging to the drowned soldiers were missing.
Channels Television gathered that the incident which occurred at about 10:00a.m. local time, has created panic among the newly deployed soldiers.
Motivated by the commendation of the Defence Ministry's Permanent Secretary, the soldiers chanted their duty creed.
On his part, the Chief of Army Staff, also told the gathering that the exercise was not just meant for training purposes but also to demonstrate the capability and expertise of the soldiers in protecting their immediate environment and country against criminals.
The August visitors to the "Exercise Crocodile Smile" operational centre in Brass Town also empowered their host community by distributing books to various primary schools in the community.