Eid-el-Kabir: We Must Never Forget Our Country In Prayers – Dogara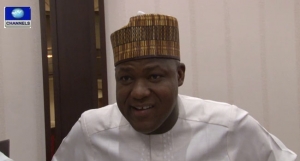 Speaker of Nigeria's House of Representatives, Honourable Yakubu Dogara, has felicitated with the Muslim Ummah on the occasion of the Eid el-Kabir Sallah celebration.
In his Sallah message to Muslims, issued by his Special Adviser on Media and Public Affairs, Turaki Hassan, Mr Dogara called on the faithful to use the period for sober reflection and to imbibe the spirit of sacrifice for peace, unity and progress of Nigeria.
The Speaker noted that peaceful co-existence and understanding as well as sustained prayers among citizens were essential in the face of the current economic and security challenges in the country which he said were not insurmountable.
"As we celebrate Eid-el-Kabir with our friends and families, we must never forget our country and its leadership in our prayers.
Eid-el-Kabir celebration is a period of sacrifice and reflection. I urge us all to emulate the virtues of total obedience, sacrifice in faith and selfless service as demonstrated and exemplified by Prophet Ibrahim", the Speaker admonished.
He lamented the pains the citizens were undergoing which he said were occasioned by decades of maladministration and the near collapse of a mono product economy.
He expressed confidence that the diversification drive of President Buhari's administration, coupled with its fiscal discipline and transparency would surely return the nation to the path of true development and prosperity.
Honourable Dogara also assure Nigerians that the House of Representatives is determined to continue to work selflessly and tirelessly for the common good and the overall interest of the country and her citizens through effective, efficient and robust law making, oversight and representation.