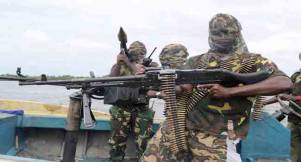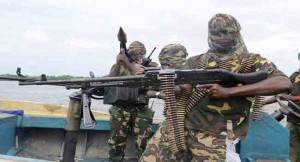 Over 1000 militants and agitators from oil producing area of Ohaji Egbema and Oguta Local Government Areas of Imo State have laid down their arms following the state government's decision to grant them amnesty.
The militants, in their numbers, stormed the Government House in Owerri the Imo State capital to hearken to the call of the Imo State, Governor Rochas Okorocha, to drop their arms and embrace peace so the government can find a lasting solution to the underdevelopment and infrastructural decay that has enveloped the region over the years.
The local governments are the two coastal and oil producing areas in the state and are known for being restive.
Militants in the area have allegedly joined their colleagues in other Niger Delta states to blow up oil installations and pipelines since over 7 oil companies operate in the area.
Worried about this continuous economic sabotage and restiveness in the area, the Imo State government has organized a programme to grant pardon to all militants, cultists and agitators in the area to enable them sue for peace and address the challenges facing the area.
Some of the Militants who were given opportunity to speak have reasons for their activities and actions and what they have done in the past.
After deciding to lay down their arms, which comprises of Ak-47 riffles, rocket launchers, pistols, charms, machetes, knives, axes and other dangerous weapons, the youths swore to an oath, administered by the Attorney General of the State, never to go back to the past.
They were also prayed for by clergymen after which some made confessions of their previous misdeeds.
Meanwhile, the Imo State Governor Rochas Okorocha, who was pleased with the decision of the youths, pardoned them for their misdeeds and promised to engage them meaningfully as a committee has been set up to look into their agitations.
He also gave a 7-day window for those who are still hiding in the creeks to lay down their arms and be granted amnesty.
Present at the event are the Imo State Commissioner of Police, the Imo State army commander, Director SSS Imo State and other head of security agencies in the state as well as all top Imo State government functionaries.