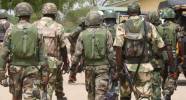 Troops of the Nigerian Army have killed four members of the Boko Haram terrorists with the capture of one in the troubled Yobe state, northeast Nigeria.
The spokesman of the 27 Taskforce Brigade, Lieutenant George Okupe, while confirming the killings and the arrest of the militants in a statement revealed that the operation was carried out in Geidam Local Government Area of the state with the assistance of the local vigilante group.
The statement reads: "It was observed that Boko Haram activities were seen around Jororo via Tombaeji village in Geidam Local Government Area of Yobe state and upon alerting securities, an immediate patrol team was deployed to the area
"The troops came in contact with the insurgents promptly around Gajeri village and a gun duel that lasted for 15 minutes led to the death of the four insurgents with the capture of one."
The troop according to the statement recovered two General Purpose Machine Gun (GPMG) two AK 47 Riffles and 144 rounds of 7.62 mm of special ammunition.
The statement also said that security forces recovered two KASEA motorcycle from the insurgents and were immediately set ablaze by the troops.
The Army has called on the people of the state to continue to support security operatives in the fight against the insurgents for the full restoration of peace in the state.
The activities of the Boko Haram militants have drooped in recent times as attacks on communities and individuals have reduced drastically sequel to the heavy onslaught on the militants by security forces since the assumption of the Buhari administration.