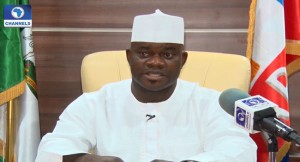 Kogi State Governor, Yahaya Bello, has described his victory at the Supreme Court as an act of God, saying it shows that Nigeria honours democracy.

Governor Bello made the declaration in statement on Tuesday by his spokesman, Mr Kingsley Fanwon, after the judgement.
He said his victory at the Supreme Court was a big honour to democracy.
The Governor dedicated the victory to the people of Kogi State who believed in transforming the state from potentially great state to a really great state.
However, he warned his supporters against unbridled celebration, saying the moment was a challenge to the state's residents to reflect on how to make the state great.
Governor Bello pledged to continue to pursue his cardinal goals of improving education, reinventing healthcare, boosting infrastructural development and raising the capacity of the state's citizens to reinvigorate the economy.
He thanked the judiciary for raising to the occasion and standing firm with what he said was true and just.
Supreme Court Ruling
Earlier on Tuesday, the Supreme Court upheld the election of Mr Yahaya Bello as the duly elected Governor of Kogi State.
A seven-man panel headed by Justice Sylvester Ngwata affirmed the election after listening to the closing statements of all the counsel.
The court also said it would provide reasons for its decision on September 30.
In a swift reaction, the immediate past Governor of Kogi State, Mr Idris Wada, said he was yet to study the judgement.
Mr Wada, who spoke through his Special Adviser on Media and Strategy, Mr Jacob Edi, noted that he cannot make any comment until a copy of the Supreme Court judgement was made available to him.