Buhari Pushes For Africa's Permanent Seat On UN Security Council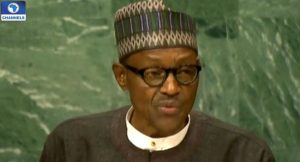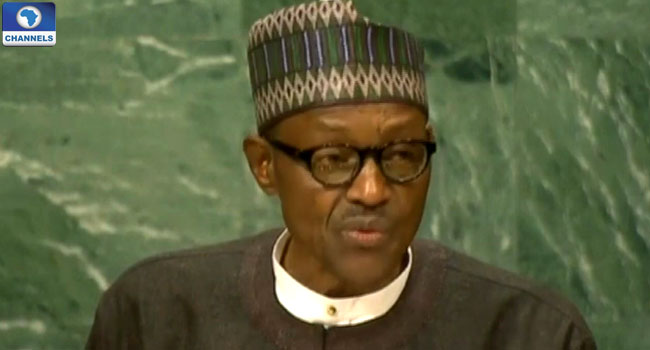 Nigeria's President, Muhammadu Buhari on Tuesday pushed for a permanent seat for Africa in the United Nations Security Council.
He also sought the establishment of United Nations Agency for Youths, saying it will enable countries take advantage of the number of youths and their creative energy.
He told the Assembly that youths were in the majority in Nigeria and in most other member states.
President Buhari made the demands while addressing the UN General Assembly.
He highlighted that Africa's permanent membership on the UN Security Council would reflect equitable and fair representation and greater transparency.
"Nigeria therefore reiterates its call for the reform of the united Nations security council in particular to reflect equitable and fair representation and greater transparency, legitimacy and inclusiveness in its decision making.
"Africa should be adequately represented on the United Nations Security Council as a permanent member.
"Nigeria is ready to serve Africa and the world on a reformed Security Council to advance international peace and security," he told the gathering.
On harnessing youth potentials for growth, the President said: "We must take advantage of the numbers and creative energy of young people who are in the majority in Nigeria and in most other member states.
"We acknowledge the importance of youths in national development and remain committed to harnessing the potential of the increasing youth bunch.
"Therefore, at the international level, we call for the establishment of United Nations Agency for Youths to achieve this strategic objective," stated.

'Terrorism Can Be Defeated'
On terrorism, the Nigerian leader reiterated his nation's commitment to the fighting terrorism, giving a breakdown of efforts in the northeast of the oil-rich nation to end the activities of Boko Haram terrorists.
"International consensus should collaborate in combatant efforts against terrorism.
"We in Nigeria, having been victims of terrorism ourselves, have made remarkable progress in our resolve to defeat Boko Haram whose capacity to launch attacks has been severely degraded.
"In the last few months their operations have been reduced to using IEDs on soft targets.
"Nigeria has continued to combat terrorism based on established rules of engagement and in conformity with international best practices.
"The Nigerian government is employing judicial tool to investigate and treat cases of human rights violations," he stated.
Collaborations with Chad, Niger and Cameroon have contributed largely to the decimation of Boko Haram terrorists in the northeast, an experience President Buhari told to the Assembly, urging countries battling terrorism to adopt the strategy.
"Our experience today is evidence that with determined international cooperation, terrorism can be defeated," he stressed.
President Buhari stated that efforts were on to ensure that Internally Displaced Persons in the northeast return to their homes and start life afresh.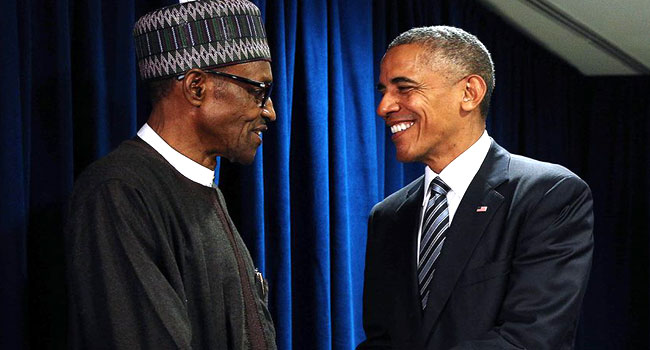 On corruption, President Buhari further emphasised Nigeria's commitment to fighting corruption, which he pointed out was part of his administration's strategic objective.
"Our objective is to stimulate the economy and restore growth.
"We are taking measures to reduce the cost of governance, and increase revenue.
"Fighting corruption remains a cardinal pillar of our administration, as corruption undermines the achievement of sustainable development goals.
"The recovered funds are being channelled to development of critical infrastructure for our people.
"We are making efforts to ensure transparency and good governance," President Buhari told the gathering.
The President also told the UN General Assembly that his administration was making efforts to clean Ogoni land in Niger Delta that had been devastated by oil spill.
He also expressed Nigeria's support for a ceasefire deal between U.S. and Russia, which he hoped would end the war in Syria.
President Buhari also reaffirmed Nigeria's abiding faith in the UN and her capacity to support member state to deliver on the 2030 agenda for sustainable development.
His speech came hours after he met with the U.S. President Barack Obama, where issues on terrorism, corruption and the nation's economy which is in recession were discussed.