Tulsa Shooting: Police Charged With Manslaughter
U.S. officials say a police officer who fatally shot an unarmed black motorist in Tulsa, Oklahoma, has been charged with manslaughter on Thursday.
Officer Betty Shelby shot and killed Terence Crutcher, 40, last week, while he was standing next to his broken-down car.
Court papers filed by Tulsa County said the officer escalated the situation and overreacted, while lawyers confirmed that if convicted, she faces at least four years in prison.
Tulsa County District Attorney Steve Kunzweiler told reporters that although she was charged, she was presumed innocent until a judge determined otherwise.
Meanwhile, in Charlotte, North Carolina, a curfew was imposed to prevent a third night of violence over the death of Keith Scott, 43, who was also shot by a black police officer.
Protesters had smashed storefront windows, looted businesses and thrown objects at the police, prompting officials to declare a state of emergency and the city's mayor to enact the curfew.
However, a largely peaceful protest still took place early on Friday, amid a strong police presence, as they chose not to enforce the curfew prompted by the previous two nights of riots.
The 'Black Lives Matter' Movement
The crowd of hundreds gathered, chanted and marched for a third successive night in the state's largest city, demanding justice for Keith Scott, who was shot in the parking lot of an apartment complex.
Despite the brief outbursts, the demonstrations were said to be calmer than those of the previous two nights.
The government has intensified scrutiny of the use of excessive force by police, and claims of racial bias by law enforcement in the United States.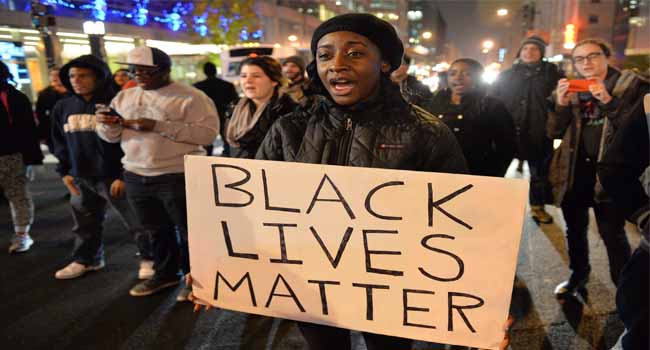 The increased 'unjust' killings of  Blacks in the U.S, brought about the 'Black Lives Matter' movement, in which supporters march across streets among other things, as a demonstration of solidarity.
The movement came in 2012, after Trayvon Martin's murderer, George Zimmerman, was acquitted for his crime, and the dead 17-year old Trayvon was posthumously placed on trial for his own murder.
Recently, the movement has been more vibrant and even embraced by more people across borders.
It is a call to action, rooted in the experiences of black people in the U.S, who actively resist dehumanization, as well as a response to the virulent anti-Black racism that permeates society.
'Black Lives Matter' is said to be a unique contribution that goes beyond extrajudicial killings of black people by police and vigilantes.
U.S. President, Barack Obama, has however called the mayors of both cities on Wednesday, to offer condolences and assistance.
On Thursday, he urged protesters to maintain the peace, while still addressing concerns of racial inequality.