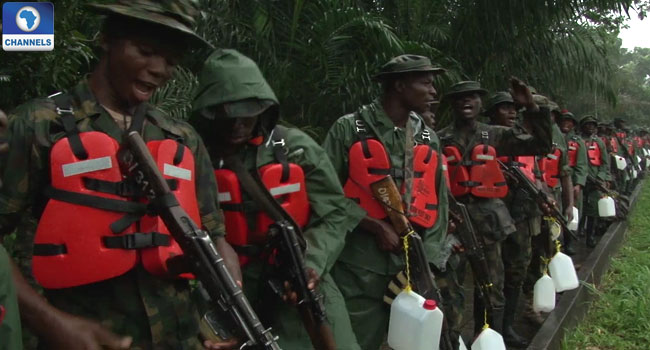 Suspected militants of the Bakassi Strike Force attacked troops deployed at Efut Esighi waterfront in Bakassi Local Government Area of Cross River State, killing one of them, an official of the army has said.
Army spokesman, Colonel Sani Usman, said the attack happened in the early hours of Saturday.
In a statement, Colonel Usman said the attackers, who came in several speed boats, were led by the 'declared wanted criminal kingpin', Benjamin Simplee also referred to as G1, whom he said was the leader of the Bakassi Strike Force.
"During the attack, a soldier was killed in action, while two soldiers were missing in action. They also burnt a buffalo pickup vehicle.
TThe troops have also killed two of the attackers while the rest escaped with gunshot wounds," Colonel Usman stated.
The army spokesman further stated that the reinforcement sent had found the missing soldiers.
"The troops location has been reinforced with more gunboats and air component. The clearance and pursuit operation is ongoing," Colonel Usman said.
He also reassured the public that the attack on troops by the militants would not deter them from the discharging their duties in the oil-rich region.
Colonel Usman expressed optimism that the fleeing militants would be found and brought to justice and advised all the criminals in the region that intend to attack any of its locations to have a rethink.
The attack came on a day that the Niger Delta Avengers renewed attacks on oil pipelines, destroying  Bonny crude oil Export Line in Rivers State.
In a statement on its website, the group said it "brought down oil production activities at the Bonny 48 inches crude oil Export Line" through its "strike team".
The militants said the attack was a "wake up call" for the government, which it accused of intimidating youths in the region since the ceasefire began.
They had earlier announced that they have agreed to ceasefire and make way for negotiation with the Nigerian government.