The leadership crisis rocking the ruling All Progressives Congress (APC) may have taken a new dimension as its acting National Publicity Secretary, Mr Timi Frank, has also called for the immediate resignation of the National Chairman, Mr John Oyegun.
Speaking at a press briefing on Monday in Abuja, Mr Frank noted that the current crisis within the party is capable of crumbling the APC if the leaders of the party refuse to act on time.
He urged leaders of the party to compel Mr Oyegun to convene a National Executive Council meeting to resolve the allegations of corruption raised by a former Governor of Lagos State, Senator Bola Tinubu.
The party's spokesperson also called on President Muhammadu Buhari to intervene and save the party from collapse.
Anti-democratic Forces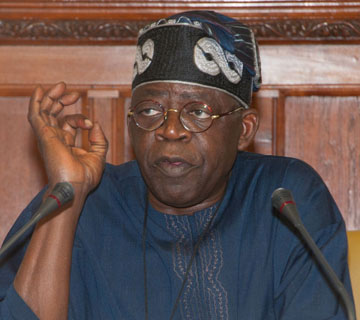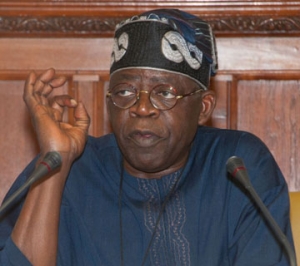 In a statement released on Sunday, Senator Tinubu accused Oyegun of sabotaging the will of democracy in Ondo state by overriding the decision of the appeal panel that asked for a fresh governorship primary following investigations that showed that the delegates' list used had been tampered with.
He went on to say that Oyegun's action in allegedly subverting the will of the people must have been under the influence of a "powerful and sinister arm at work".
The former Lagos state governor also alleged that the APC was now under threat of being suffocated by anti-democratic forces pretending to be progressives.
The full statement by the media office of Senator Bola Tinubu, demanding Chief Oyegun's resignation is published on Channels TV website.
No Going Back
Meanwhile, the APC governorship candidate in Ondo State, Mr Olurotimi Akeredolu, has appealed to his co-aspirants in the primaries to come together and work for the success of the APC in the November 2016 election.
Mr Akeredolu made the appeal while addressing his supporters at the party's secretariat in Akure, the state's capital in southwest Nigeria.
He said that his concern was to only relate with the people of the state and no other person or group, with the aim of bringing change into their lives.
Akeredolu expressed belief that irrespective of the current challenge of the party, the APC would form the next government in the state.
He insisted that there was no going back on the primaries, urging the aggrieved aspirants to put the issue of a new primary election behind them and be united towards winning the governorship election.
Speaking to Channels Television, the APC Publicity Secretary in Ondo State, Abayomi Adesanya, appealed to the leaders of the party in the state to come together as one family in the interest of the party and the people of the state.